Canadian Abstracts is an exploration of computational creativity focused on the relationships with nature and our environment. Canadian Abstracts uses a Generative Adversarial Network (GAN) which is a type of Artificial Intelligence. This algorithm is trained on 100 pieces of work by Lawren Harris. Once trained, the A.I. is able to generate and output its own images to express its understandings of the Canadian wilderness. Then by allowing the algorithm to move through latent space, these output images become animated as it travels between data points within its imagination. Through the visual exploration of these new Canadian Landscapes, does our own understanding and view of Canada, it's wilderness and our environment match that of the algorithms? Are these A.I. landscapes familiar to you? Could these landscapes really exist? Or might these images only be the dreams of a technological system that is trying to understand our physical world?
Generating these computational landscapes also led to the creation of a piece called 10,000 tries.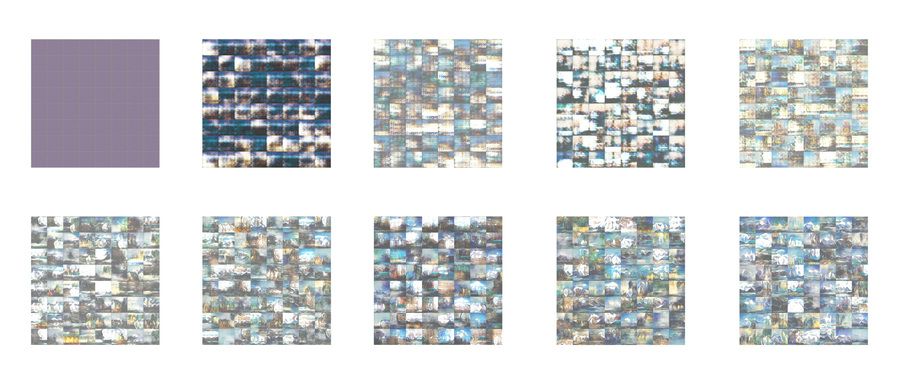 Exploring and visualizing computational creativity, '10,000 tries' is an explorative work that uses an algorithm to learn an artistic style. The Artificial Intelligence algorithm references roughly 100 different style examples of what a landscape painting could look like. A computational model was trained using a Generative Adversarial Networks (GAN) — a type of Artificial Intelligence to produce these images. In this case, the reference artist was Lawren Harris. The algorithm is then tasked to generate entirely new creative imagery based on the collection of the styled reference images. This piece documents and exposes the learning and iterative creativity the artificial intelligence works through to create new computer-generated landscapes. These source images were analyzed by the A.I. as a form of learning that produced what a newly painted artwork might look like from a Canadian master. The area '10,000 tries' looks encourage discussion is the area between software development and the final output images. The iterative steps of machine learning is rarely seen or experienced by the general public and these iterative steps in computational creativity is what this work tries to showcase.
Work from this series is available in the store.