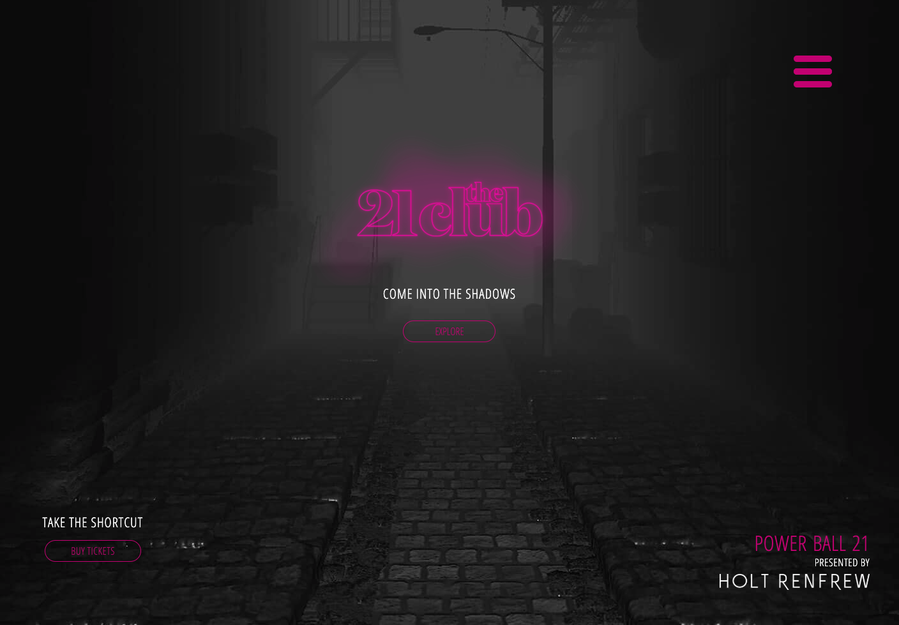 The Power Plant Contemporary Art Gallery is Canada's leading non-collecting, public art gallery dedicated exclusively to contemporary visual art from Canada and the world. Since its beginning in 1987, the gallery is a vital forum for the advanced artistic culture of our time that offers an exceptional facility and professional support to a diverse group of living artists while engaging equally diverse audiences.
From its inception in 1999, Power Ball has thrived as an ambitious fundraising event that provides vital funds for exhibitions and public programs at The Power Plant. The party has since set the standard as one of the most influential and vibrant art galas in Toronto, fulfilling The Power Plant's vision to influence and refresh the mainstream for international contemporary art.

Working with the creative team and innovation team members the Power Ball 21 site was developed using webGL and three.js.
Keeping inline with this years Speakeasy theme, the the site and alley also mimics if it is currently day or night in Toronto. During the day there is an unsuspecting alley, but during the night it is possible to explore down the alleyway and find the entrance to the speakeasy party and buy tickets.
R&D: OpenCV Camera Control
For a potential activation during Power Ball I was exploring the possibility of navigating the 3D alleyway using OpenCV and face recognition through a webcam. When a user's face was detected they would be able to control the scene's camera and walk down the digital alleyway and control the direction of the camera and which way it looked.